In-line Mixer Agitators/Mixers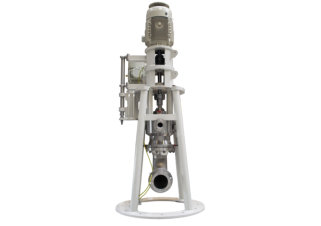 We offer both static and dynamic in-line mixers, as well as powder dissolving equipment. Jongia in-line mixers are suitable for a wide range of applications in several industries, such as food & beverages, pharmaceuticals, chemicals.
Our in-line mixers offer a high mixing efficiency at low operating cost. They are available in a great variety of construction types and can be connected in many possible ways. Besides, the Jongia in-line mixers can be constructed in various types of materials, such as stainless steel, carbon steel, etc.
Advantages:
Continuous process stream
Short residence times
A high reliability
In-line tube (static) mixer – Type SMB
Jongia's static mixer type SBM (in-line tube mixer) has no moving parts. This type of mixer is composed of a tube with a removable mixing element with specially designed flights. Those flights create multiple splitting, rotation and pulsation of product streams.
The SBM in-line tube mixers are applied to standard mixing, blending, as well as dispersion, aeration, de-aeration, heating and cooling and chemical reactions.
Dynamic in-line mixer
Jongia's dynamic in-line mixer achieves extremely intensive mixing while maintaining very short residence times. As a result, small quantities of additives can be mixed with a relatively high, continuous process stream in a very brief time.
This dynamic in-line mixer offers a good solution in particular when a component or ingredient must be added just before the next step in the process or before filling takes place