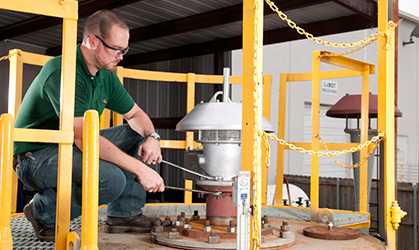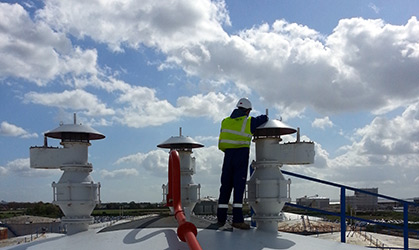 At Assentech we have a lot of experience with flame arresters and our MD has previously sat on the ISO committee.
We are familiar with EN ISO 16852:2010 and have supplied and installed flame arresters into wide a variety of industries and applications.
As well as sizing, supplying and installing flame arresters, we also service in-situ and refurbish at our purpose-built repair centre – one of only 2 Groth Approved Repair Dealer workshops in Europe.
How Can Assentech Help?
Customers involve us in their flame arrester requirements for a number of reasons including;
New requirements
Upgrades – maybe current arresters are beyond economical repair
Refurbishment of existing kit
Training on EN ISO16852:2012 or the affect ATEX has on flame arresters
Arresters are getting old and customer wishes to want to know if they are still fit for purpose
Fitting flame arresters to existing vents
Servicing of existing equipment
In-Service Support
We can tailor reactive and planned maintenance services to suit your needs as a customer and the specification of your equipment. Typically with flame arresters, we would recommend periodic visual inspections and cleaning, with scheduled replacement of internal components. Any equipment which requires further work can be fully refurbished at our premises. We provide this service for all makes of equipment.
New Product Selection
Our specialist software allows us to estimate your losses, calculate the flow rates your tanks require and size flame arresters accordingly – all of which is offered as part of the service.
We understand flame paths and how flame arresters need to interact with other system components such as VRU's, breather vents and flare stacks. We take a consultative approach to customers requirements and are happy to talk through your P&IDs with you.
Replacements & Upgrades
If you are concerned about the size or performance of your flame arresters we would love to talk to you.
ATEX has had a big impact on flame arresters and we carry out free of charge site audits which help you know where you stand with respect to current legislation.
If your system is not performing how you would expect then there is likely a problem – we will gladly carry out an inspection of your equipment and advise of what steps need to be taken to get better performance.
Inspection
As a Groth approved repair dealer and Protego approved repair dealer, we carry out inspections of flame arresters with respect to condition, function and compliance. We provide this service for all makes of equipment.
Installation
We install flame arresters and our engineers are fully insured to work on COMAH sites. We provide Risk Assessments and Method Statements in advance of all work as standard.
Refurbishment
We carry out off-site refurbishment of flame arresters at our purpose-built service centre, one of only 2 Groth Approved Repair Dealer workshops in Europe. We provide this service for all makes of equipment.
Technical Seminars
If you or your team want to know more about tanker loading or offloading we will be happy to run a technical seminar or lunch and learn session for you. We make no charge for the sessions for end-users or groups of 5 or more people.
We supply board rand of storage tank venting equipment …