Pilot-Operated Pressure Relief Valves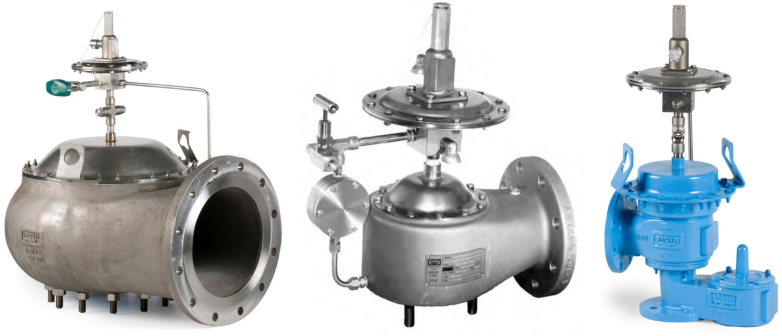 Pilot Operated Relief Valves serve the same primary purpose as pressure / vacuum relief valves, but with better performance characteristics than weight or spring loaded valves. Lower leakage and better flow performance make a pilot operated valve the solution when the focus is product conservation, expanded tank working band, and reduced fugitive emissions. A pilot operated relief valve provides the maximum available leakage control technology as specified in the Clean Air Act of 1990.
Emergency Relief Valve – Pilot Operated Model 2500A :
Designed to provide emergency relief capacity beyond that furnished by the normal operating pressure relief valve on the tank. The valve protects the tank against rupture or explosion that could result from excessive internal pressures caused by an external fire, etc. Model 2500A is designed to be self-closing. As excessive pressure builds up, Model 2500A relieves, then reseats when overpressure has been dissipated.
Key Features:
DOCUMENTED COMPLIANCE TO EPA'S  METHOD 21 TESTING (<500 PPM LEAKAGE AT 90% OF SET PRESSURE)
ANSI 150# AND API 650 DRILLING
DERAKANE, FURAN, CARBON STEEL,316 SS, AND OTHER BODY MATERIALS AVAILABLE
FULL LIFT BY 20% OVERPRESSURE
TRIM AVAILABLE IN 316 SS OR HASTELLOY C
STANDARD FEP DIAPHRAGM
PRESSURE SETTINGS 5 INWC TO 6 PSIG
1660A Pilot-Operated Relief Valve with Pipe-Away feature :
Used on liquid storage tanks and other process vessels or systems to prevent structural damage due to excess internal pressure or vacuum. The pilot-operated relief valve has two principal advantages over standard types of relief valves:
it is bubble-tight to set pressure
it is fully open at less than 10% above set pressure.
Key Features:
SIZES 2″ THROUGH 12″
PILOT OPERATED RELIEF VALVES 1660A
FULL PIPE BORE SEAT NOZZLE
STANDARD PRESSURE SETTINGS FROM 2.0 INWC TO 15 PSIG
TEMPERATURE RANGE FROM -323° F TO 300° F
DESIGNED FOR EASY MAINTENANCE
Related pressure and/or vacuum safety relief and venting equipment