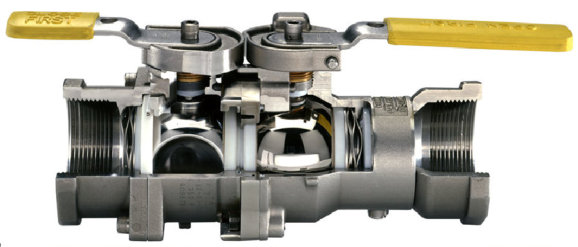 OPW offers the most comprehensive line of dry disconnect products in the industry, including Drylok™, Kamvalok® and Epsilon® – all brands synonymous with quality.
Dry Disconnect couplings have been proven as a successful technology to help protect workers and the environment in the transfer of hazardous materials. If your product is corrosive, toxic, caustic or harmful this family of high-performance Dry Disconnect couplings help reduce the hazards transfer brings.
Epsilon Dry Disconnect Couplings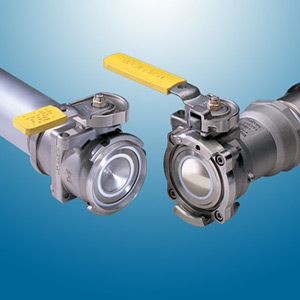 Epsilon couplers are designed with a double ball valve system to prevent chemical spills and reduce fugitive emissions of VOC's.
Epsilon is a low spill coupling, based on a double ball valve system integrating a sophisticated safety design. Beyond the common advantages of a ball valve design, Epsilon provides for product flow through an unrestricted flowpath and double shut-off reliability in the coupling connection.
The Epsilon Coupling System is designed to prevent chemical spills and reduce fugitive emissions of Volatile Organic Compounds (VOC's), particularly in the process facility and during transfer to and from tank trucks and tank cars.
During in-plant chemical transfers, the Epsilon Chemical Containment System will provide your Plant with process flexibility, while improving operator safety, enhancing environmental compliance and reducing overall capital expenditures and operating costs.
Specs and Features:
Sizes
¾", 1", 1½", 2" and 3"
Design Pressure
30 bar (435 psi)
Operating Temperatures
-22 to +450 deg C
Materials available
Stainless Steel
 
Hastelloy
End Connections
NPT
 
BSP
 
Butt Weld
 
ANSI 150 Flange
 
ANSI 300 Flange
 
ANSI 600 Flange
 
Tri-clover Sanitary Flange
 
DIN PN16
 Features
 
 

FDA compliant seals in TFA or PFM

Spring-energized stem, face and flange seals. Testing confirms the low spillage and emission specifications are still achieved after 2,000 cycles.

Polyurethane dust cap or Stainless Steel pressure cap used to protect the ball from damage and debris when coupling is closed and disconnected.

"Instant" connection method is completed by hand without tools, creating compression on the critical interface seal.

Interlocks require deliberate sequential action by users, thereby eliminating unintentional spills and catastrophic chemical releases that threaten worker safety and the environment.

Approved/listed for pressure service through a comprehensive set of international agencies
Kamvalok Couplers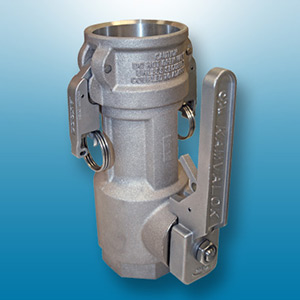 Kamvalok couplings can be used at any transfer point where product loss is unacceptable.
Because of its unique poppet action the OPW Kamvalok Dry Disconnect virtually eliminates spillage of any residual liquid contained within the line after disconnection. Kamvaloks are used at transfer points where product loss is unacceptable.
The Kamvalok Dry Disconnect is designed to automatically shut off in the event of an accidental disconnection of the coupler and adaptor. Should the Kamvalok be accidentally disconnected due to operator error or accident while the handle is in the open position and product flow is in progress, the poppet in the adaptor will automatically close and the seal cylinder will immediately stop flow through the coupler.
Sizes
1 ½", 2", 3"
Design Pressure
10.5 bar (150 psi)
Operating Temperatures
-29 to +93 deg C
Materials available
Aluminium
 
316 SS
End Connections
150lb Flange
 
300lb Flange
 
Female NPT
 
Female BSP
 Features
 
 

90 deg Elbow Swivel Available

Poppeted seal cylinder with Snap-on Nose Seal keeps hazardous liquids in-line

Nose seal can be easily replaced without need for new seal cylinder

 
 
OPW Kamvalok Dry Disconnect Couplings are considered the standard in many industry sectors and provide a reliable solution to prevent spillage during connection or disconnection.
Common applications include: paint, lacquers, inks, adhesives, fatty acids, pharmaceuticals, liquid soaps, petroleum products, solvents, chemicals, vegetable oils, detergents, diesel exhaust fluid (DEF) and many acids and caustics.
Kamvalok Flat "The DRIEST coupling system on the market!"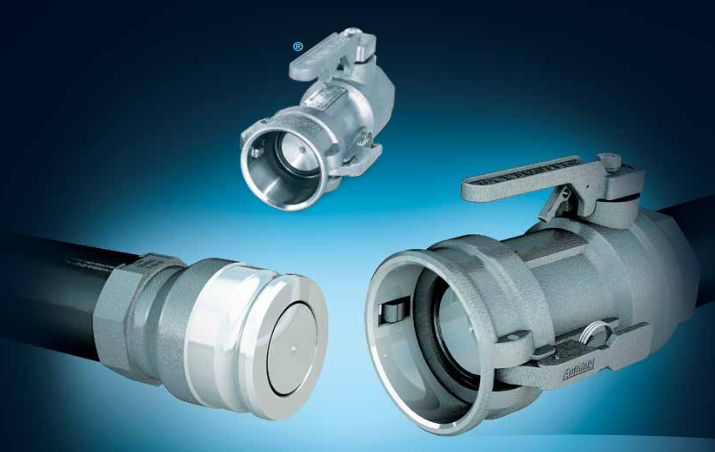 The new Kamvalok Flat coupler is the next generation of OPW dry disconnect couplings.
OPW have taken their proven, best-in-class Kamvalok and flattened the connection points. This effectively eliminates all cavities where liquid can pool and subsequently spill upon disconnection.
Features & Benefits:
Reduce product loss at disconnect by up to 85%
New patent-pending smooth, flat-face poppets
Industry-standard locking handle
Easy to close Autolok locking arms
Automatic locking arms, no pins or buttons
Vibration-resistant Twin-Kam arms
Kamvalok Flat Dry Disconnect Coupler Design reduces product loss at disconnect by up to 85% compared to our already high performing standard Kamvalok.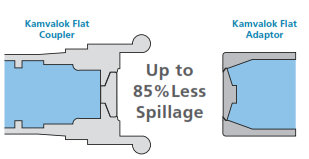 Percentage of fluid loss at disconnect varies depending on the size of the Kamvalok and if it is vertically or horizontally positioned.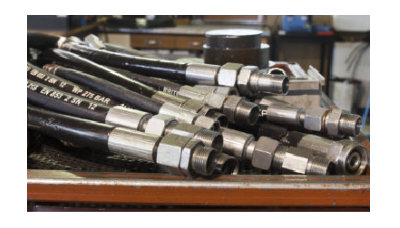 Hose Testing & Certification
We supply a broad range of loading equipment and complete loading platforms, gantries and racks.