Frequently Asked Questions
How can we help you?
Here at Assentech Sales Limited, we understand that you may have queries about our products, services, operations, and more. In response, we've compiled a selection of the most commonly asked questions to provide immediate assistance. These FAQs cover a wide range of topics and provide comprehensive answers to support your interactions with us. If you can't find the answer to your specific question, don't hesitate to contact our customer service team, who will be delighted to assist you further.
How can we help you?
Here at Assentech Sales Limited, we understand that you may have queries about our products, services, operations, and more. In response, we've compiled a selection of the most commonly asked questions to provide immediate assistance. These FAQs cover a wide range of topics and provide comprehensive answers to support your interactions with us. If you can't find the answer to your specific question, don't hesitate to contact our customer service team, who will be delighted to assist you further.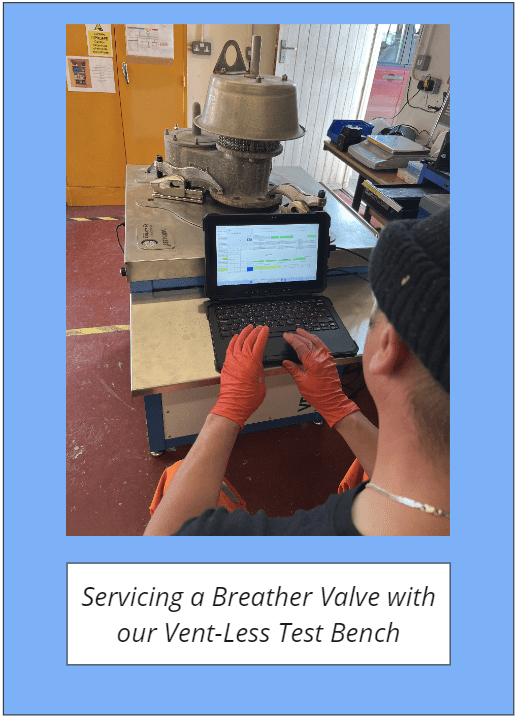 Should breather vents meet a Standard?
Yes, breather valves protect the facility, people, wildlife and the environment from volatile organic emissions. They are fitted to highly delicate storage tanks and digesters that are easily damaged, which unfortunately is a common occurrence. International standards API2000 and ISO28300 are gateways to best practice that have evolved over years of experience by industry specialists. The requirement for production testing is intended to prevent manufacturers assembling the valve incorrectly which could collapse a tank. The valve design should also be tested for capacity using approved test procedures and equipment. Documented compliance with these standards is the only means by which an operator can ensure the valve will operate as intended. It also provides a benchmark efficiency rating that can be maintained as the valve ages.
How long has it been a requirement to test breather valve?
API introduced the technical bulleting AP2521 in 1966 as a way of demonstrating that the valve is functional and capable of holding pressure in the tank to preserve stored product quality. In order to address a wider safety concern that valves could be assembled incorrectly at the factory i.e., with the pressure pallet sitting on the vacuum seat and vice versa API2000 introduced Production Testing section 5.4 in Edition 6 (2008) to ensure that the valve was assembled and set as intended prior to supply to the customer following several incidents. This requirement was also introduced the same year in first edition of ISO 28300 section 6.4 which was co-branded with API2000.
Do all manufacturers follow API2000 or ISO28300
Unfortunately, not all manufacturers meet the minimum requirements of production testing to API2000 Section 5.4 or ISO28300 Section 6.4. It is the responsibility of the purchaser to insist on individual leak test and calibration reports that detail the valve serial number and pressure attained at the flow defined in Table 10. A good indicator of the companies that do not test is the price they charge for the valve. Simple blanket certificates of conformance are usually a smoke screen to hide lack of test integrity. Without this evidence the purchaser has no guarantee that the valve has been assembled correctly which could result in structural damage to storage tanks and possible harm to staff and contractors. This could have catastrophic consequences for the business resulting from HSE prosecution and loss of profit due to dropping share values, loss of production and reputation.
How often should I test the functionality and leakage from my Breather Valves?
We would recommend a test prior to installation (pre-commissioning) and testing at intervals that the tank storage facility deems satisfactory to evidence due diligence and duty of care.  Yearly inspections and servicing (replacing soft goods kits) and full test, every 3 years or sooner.  This is determined by the media and the process, but we must advise that it is the operator's responsibility to demonstrate best practice with regards to their own requirements. 
Why should I be testing my Breather Valves?
It demonstrates your duty of care, corporate social responsibility and gives you the full facts on breather vent performance, leakage rates and the impact on your profitability, health and safety of your workforce and environmental impact to give you the full facts so that you can make decisions.
How do I know whether my Breather Valves are compliant?
Vent-Less follows the test protocol of the International Standards (API2000 and ISO28300) .  The testing takes less than 3 minutes and tests both vacuum and pressure ports to provide a fully traceable and individual Test Report which is instantly generated and available via QR code technology. The test report should always detail the individual valve's serial number and pressure attained at flows defined in Table 10.
How is the leakage rate detailed on my Test Report?
The Vent-Less testing enables the operator to see the leakage rate at Pre-service and then Post-Service Test which provides vital data for measuring, monitoring, and improving emissions from tank breather vents.  This data can be used for ESG, Carbon Offsetting, ISO 14001, and Environmental Reporting.  The first technology of its kind to measure leakage and provide valuable data in CO2 units. 
How can I store and retrieve the test data ?
Vent-Less software provides users with optional file storage.  A very useful facility to save test certification,, retrieve and refer to historic test results, observations, photos and download Test Reports of multiple valve results saved against a project ID.
Why is Vent-Less classed as a best available technique (BAT)?
Test activities are controlled closely by calibrated mass flow controllers and pressure sensors driven by a software architecture written entirely around API2000 and ISO28300 Production Testing protocols. Pass or fail results are published based on the individual valve performance. Machine decision making is based on reference to complex algorithms that makes result reporting 100% repeatable.
Commissioning, Maintenance and Inspection
I have a breather vent that needs to be overhauled. Can Assentech help?
Yes, Assentech has maintenance, inspection, testing and certification capabilities at their workshop premises. In addition, we are recognised as experts in the field, and have access to a wide range of OEM spares and factory support. Our latest addition the Vent-Less Test Bench, also supports maintenance and inspection of Breather Valves.
The tank cannot be left to free vent whilst my breather vent is sent away for an overhaul?
We propose the "Swap in, Swap out" process where the customer has procured a spare Breather Valve with the identical settings which can be swapped in as required.  The spare valve can then be sent offsite for maintenance and re-test with time pressure.
What happens at a service by Assentech Engineers?
Pre-service test: complete asset strip, replacement diaphragms/gaskets fitted, individual component inspection, weight package evaluation.  
Post-service test – If the unit 'Fails' to meet the International Standards of API 2000 / ISO 28300, Assentech Engineers will evaluate the conditions and overall quality to determine whether the asset will achieve a 'Pass' criteria.  Where applicable, discussions with customer to agree the next steps will take place.
My Breather Valve has been used on a process. What steps do I need to follow before I send to Assentech?
Ensure the unit is decontaminated before packaging.  Provide a copy of the decontamination certificate and MSDS sheet which must be attached to the outside of the crate or box.
I want to re-purpose, refurbish or re-set a Breather Valve
Assentech has the capability and knowledge to apply new settings and will use their technical expertise to ensure weight packages, diaphragms, pallets, and stems are configured according to the new specification.  A new tag plate will be fitted to ensure settings, capacity, model number, serial number and TAG reference are clear for site asset traceability.
If I send my Breather Valve to Assentech for a service, what is supplied to evidence my duty of care and best practice?
Assentech issues a API 2000 Test Report on both pre-service test and post-service test to enable a comparison of performance before and after the valve service.  The Report details leakage rate on both vacuum and pressure port, traceable asset, verified flow curve, observations prior to service, calibration data of test instrumentation.  A QR code, generated as an adhesive label provides a simple and easily accessible link (via QR reader) to the asset's API 2000 Test Report for audit and management of ageing plant efficiency.
My Breather Valve or equipment that requires servicing is large and I do not have the suitable packaging.
Ask Assentech to arrange for an appropriate crate to be delivered to your facility for onward transportation.
I do not want the hassle of identifying a freight company to arrange the transportation to Assentech.
Ask Assentech to quote for collection/delivery costs at quote stage.
Why should I send my Breather Valve to Assentech rather than use a local service company?
It is important that the Operator gets vales serviced and tested by a competent service provider. We recommend reference the the 'Vent-Less Approved' quality assurance stamp. So, we recommend either use a service provider that has a Vent-Less test bench or feel free to contact Assentech direct. Assentech has earned a distinguished reputation across the globe for our technical expertise and comprehensive knowledge in the realm of Breather Valve technology. We stand committed to best practices and strict compliance with International Standards for maintenance, inspection, testing, and calibration. Furthermore, we have the privilege of representing on the International Standards Committee.
Our engineers employ the unique Vent-Less Test Bench technology, offering accurate and traceable outcomes. This innovation allows us to assess leakage rates on both vacuum and pressure ports based on evidence, thereby determining if the equipment fulfils the 'Pass' or 'Fail' criteria as per the API 2000 / ISO 28300 International Standards.
Does the API 2000 Test Report provide actual leakage rate for Net Zero reporting?
That standard Production test defined in either API2000 or ISO28300 is intended to demonstrate that the valve has basic functional efficiency and has been assembled correctly in the factory. This demonstrates the valves ability to retain at least 75% of the valve set point is an indicator of leakage rate. After 3 years in service it is likely that a valve will not pass this test until it has been cleaned and fitted with new seals. Test results before and after the service will demonstrate a reduction in leakage. However Assentech has embellished this test protocol with a third test and that is to measure the volume of leakage at any pre-determined pressure, i.e 90%.  This rate, concretely documented as a volume of leakage and a CO2 measurement unit, serves as a valuable index for ESG, Carbon Offsetting, ISO 14001, and environmental reporting.
I have a new Breather Valve delivered from a manufacturer, but I don't know if it meets API2000/ISO28300. What should I do?
Reach out to our team at Assentech to explore your requirements and understand how you can acquire an API2000 Test Report. This report will serve as a testament to your equipment's safety and compliance.
I have multiple Breather Valves at my site, how can I reduce long term costs and take ownership of my ageing plant maintenance programme?
Reach out to Assentech to inquire about our acclaimed selection of Vent-Less Test Benches. These benches revolutionise the functional testing of breather vents by adhering to the API2000 testing protocol. An accurate API Test Report can be generated by a single operator after a swift 2-minute test.